Vexatious and poisoned environment – Kingston Pride Inc.
Update to article on February 19, 2016 at 22:00 at the bottom of this post
The recent harassment experienced by one specific board member by other board members is appalling and deplorable. On Friday, February 12, 2016 board members knowingly and viciously singled out, harassed, and shamed Andres Caravantes for being a sex positive and proud drag queen as portrayed in the Queens Journal article "For the love of drag" published on February 11, 2016. Andres was made to feel he was singled out by Daryl Fraser, Chair of Kingston Pride Inc., from all other board members in Facebook messages (below) in an attempt to portray some moral story of what not to do as a drag queen and what not to do as a board member of Kingston Pride Inc. The harassment, ridicule, and shaming continued against Andres by John Bryant – Director of Communications (elected board member), and Stacey Rosbury – Coordinator for Andres' portrayal of a sex positive, out and proud drag queen at Queens University.
It is clear the Queens Journal article made no reference to Kingston Pride Inc. and the article's intent was not to discredit or portray Kingston Pride Inc. negatively in the public forum. Yet board members of Kingston Pride Inc. felt they had a right to single out, harass, and shame Andres. There were accusations of being a bad drag queen, being a negative portrayal of drag and as a Kingston Pride Inc. Board member, and for being too young.
On the following scheduled Kingston Pride Inc. meeting on February 18, 2016, I attended in my capacity as Parade Coordinator, a volunteer position. Andres expressed his displeasure for the mistreatment. I also expressed my distaste for the mistreatment. Instead of apologies or empathy for Andres, he was further ridiculed by existing board members Bill Boileau, Director of Fund Development (elected board member).
I was asked to help advocate for Andres' case to the board. It was my intention to ask the board for a formal apology. Due to unforeseen circumstances, not all officers could attend and quorum was not met. Therefore, I did not get an opportunity to formally ask the board for an apology since this was not a formal meeting.
In my attempt to relay the concerns Andres and I had regarding the harassment, I was ridiculed and harassed myself by Bill Boileau, Director of Fund Development. I was advised by him forcibly that I could not act as an advocate of Andres and the matter did not concern me. Bill later accused me of being a pervert and pedophile for performing my duties as Parade Coordinator (I messaged the volunteer Fair Coordinator to speak about coordinating efforts for city permit applications etc as seen below). I felt hurt and very upset by these untrue accusations of my own character. I asked him to apologize immediately and he did not.
No formal apologies to Andres Caravantes has taken place and in the act of righting a wrong for a board member I was singled out and harassed by a vexatious board of directors. It is clear a formal apology for Andres and myself will never occur by the current sitting board. This Kingston Pride Inc. Board, I believe, is a vexatious and poisoned environment for all volunteers.
I formally resign as Parade Coordinator volunteer effective immediately. I cannot condone these actions by the board against Andres or myself. I will not sit on this board which openly sullies my good name and those of other members.
---
Messages in Kingston Pride Inc.'s secret Facebook group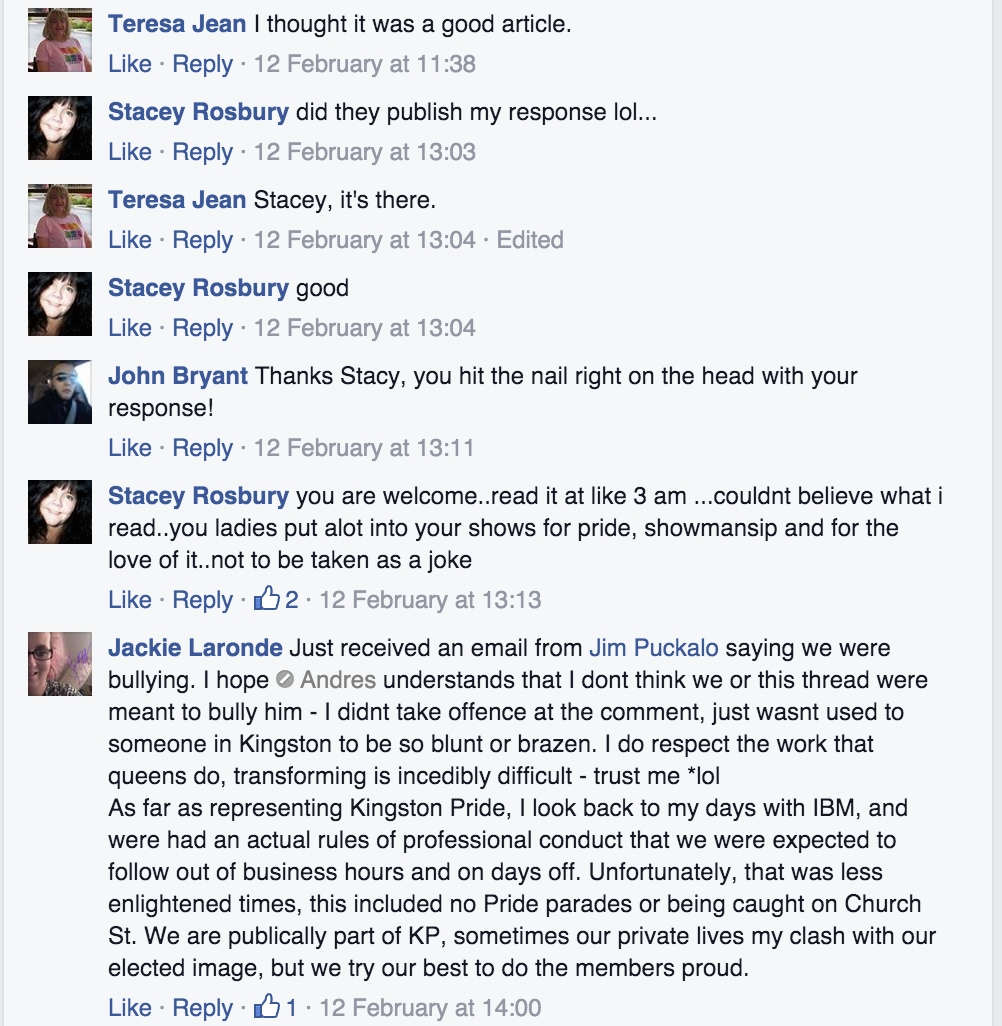 ---
Messages to Fair Coordinator
To the best of my knowledge, the Fair Coordinator is over the age of 18 and I clearly have not and did not make any inappropriate advances to the volunteer.
---
Further to – Update on February 19, 2016 at 22:00
Accusations of my need for fame and my petty nature are the official response from Kingston Pride Inc.  In comments to this blog, Stacey Rosbury – Coordinator spoke with some authority for Kingston Pride Inc. but it was hard to believe it was an official response per se.  However, a similar comment from Stacey was posted to the Queen's Journal with a forward/beginning paragraph clearly indicating she was speaking on behalf of Kingston Pride Inc.  Here is a screen capture of the response as captured on the Queen's Journal website.